A trump card in the post-pandemic retail industry, immersive technologies not only bridge the experiential gap between e-commerce and brick-and-mortar stores but also provide retailers with highly effective marketing tools, from product showcases to post-purchase experiences. Immersive retail has a fundamental tactical value in a context of lockdowns and distancing measures. However, it is destined to play a strategic role because it resonates with the deepest chords of the customer experience.
An increasingly immersive scenario for retail
Let's admit it, people enjoy using AR and VR when shopping: 55% of consumers in a panel state that shopping with AR is fun. Moreover, it converts: Home Depot, for example, reports a 2-3 times increase in conversion rates. And lastly, it generates word-of-mouth: 81% of those who try virtual reality say they want to share the experience with their friends.
The growth of AR and VR in retail is supported by data.
In general, all estimates regarding AR and VR indicate growth. One recent estimate by Markets&Markets predicts that the global market for augmented reality (AR) and virtual reality (VR) will reach a revenue of $1,274.4 billion by 2030, up from $37.0 billion in 2019, with a robust CAGR of 42.9% during the forecast period (2020-2030). Looking closer at the retail sector, it is projected that the use of AR/VR in retail will grow from 0.5% in 2020 to 1.6% in 2025, representing a 220% increase.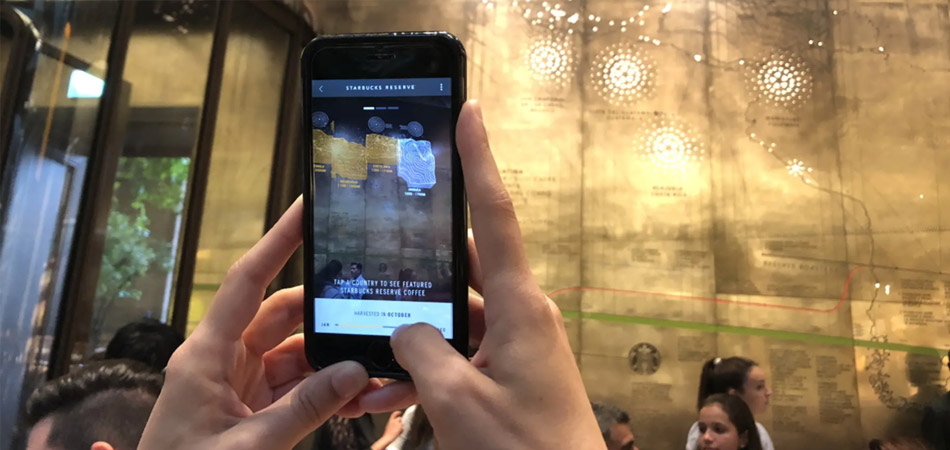 The acceleration of AR and VR in retail
For some time now, immersive applications in retail have been known as a tool to create a better and more memorable in-store experience.
An example close to us is the case of Starbucks (as shown in the image). Developed for the opening of the first flagship store in Italy, a stunning AR application allows users to explore the Roastery and navigate through a series of content related to Starbucks and its history. All this while enjoying coffee.
Switching technologies, Timberland, for example, has created a virtual try-on experience – VR Try On – based on Kinect technology. Passersby can virtually try on clothes from their new collection without even entering the store. Simply stopping in front of a shop window, a smart screen scans the person and allows them to digitally try on pieces from a series of collections.
Just as in other sectors, the pandemic has accelerated certain digitalization processes for retail, more than the increased accessibility of 5G, the lower cost of hardware devices, and the widespread understanding of the benefits of VR and AR are currently doing.
However, while until now the most frequent cases of immersive retail were related to the physical store – and for these defined as "location-based" – in recent months, many other applications have gained ground, supporting different stages of the sales process:
#1 – Presales: Branding / Promotion / Drive to store
#2 – Sales: Marketing enablement / Product interaction / Store digital experience
#3 – Post-sales: Customer Support / Brand recognition / Customer Advocacy
AR and VR in retail: an overview of emerging case studies
Augmented reality can be used to overlay digital data on real products, while virtual reality can provide a completely immersive shopping experience. In both cases, AR and VR can radically change the way we search, buy, and sell products and services online. Let's take a look at some cases and examples of AR and VR applications in retail.
#01 | BRANDING
Prada also responded to the crisis by launching a Virtual Reality project in June. It is a creative project that aims to offer a new dimension, focusing on beauty, quality, and the excellence of Made in Italy, of which Prada is a symbol, in connection with the places, faces, and collections. It showcases the cities where its stores are located, with their streets, squares, and people, the spaces that host its exhibitions and events, and the garments and accessories that can be "touched and experienced." All of this can be accessed through popular VR viewers on platforms such as YouTube VR, Veer, and Oculus.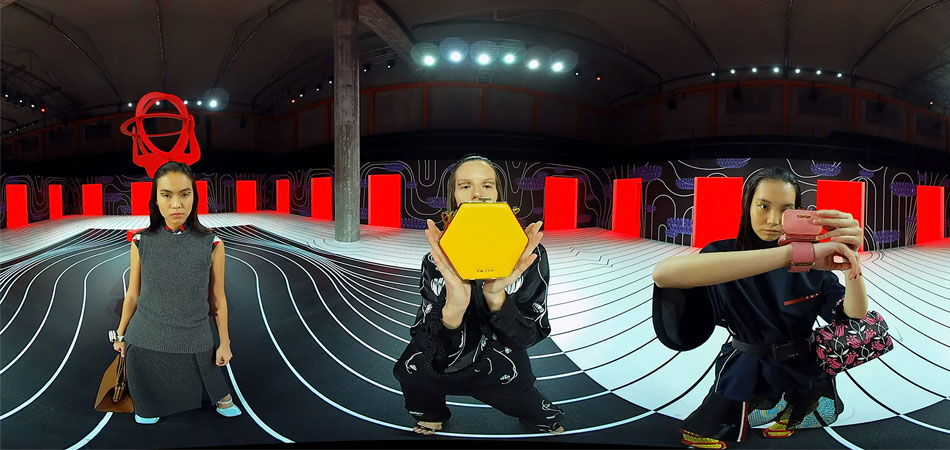 #02 | AR Catologues in augmented reality
Perfect for shopping from the couch. Augmented reality catalogs are quite common in the furniture and design industry. You can choose a wardrobe from an online store and project the product in the exact dimensions and real colors in your bedroom to get a better idea of how it will look when placed in a specific location. Seeing the products "in context" builds trust and can even reduce returns, which is particularly useful for heavy and/or expensive items that are difficult to ship or return to a physical store. Ikea paved the way, and many others have followed in the industry (Archiproducts, Maisons du Monde, etc.) as well as in many other fields.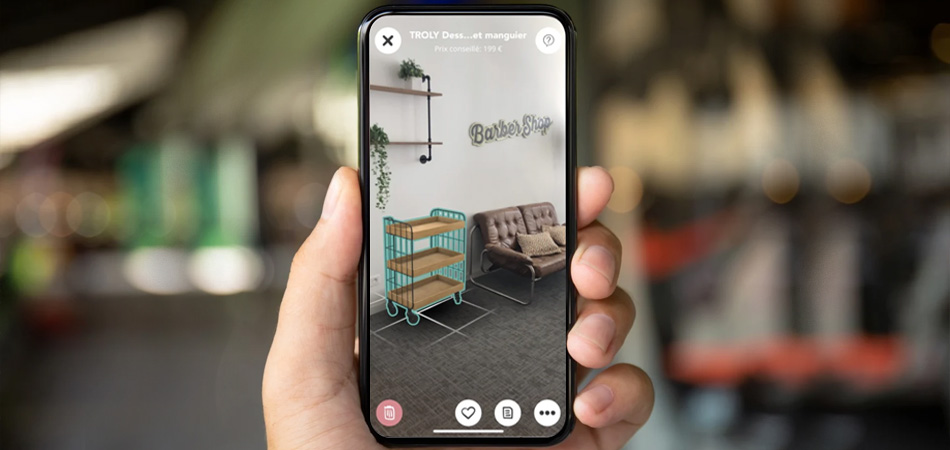 #03 | TRY ON
The path for this type of application was opened by the beauty industry. The pioneers were the Modiface apps by L'Oréal (followed by MAC, Chanel, Maybelline). Another case is that of Tiffany and Estate Diamond Jewelry: the AR application allows you to browse through rings and try them on a photo of your hand. However, let's debunk the myth that it's only women who are indecisive and want to try a variety of products before making a decision! With augmented reality, anyone can digitally "try on" hundreds of beauty products, sneakers, sweaters, and make a decision based on the best effect.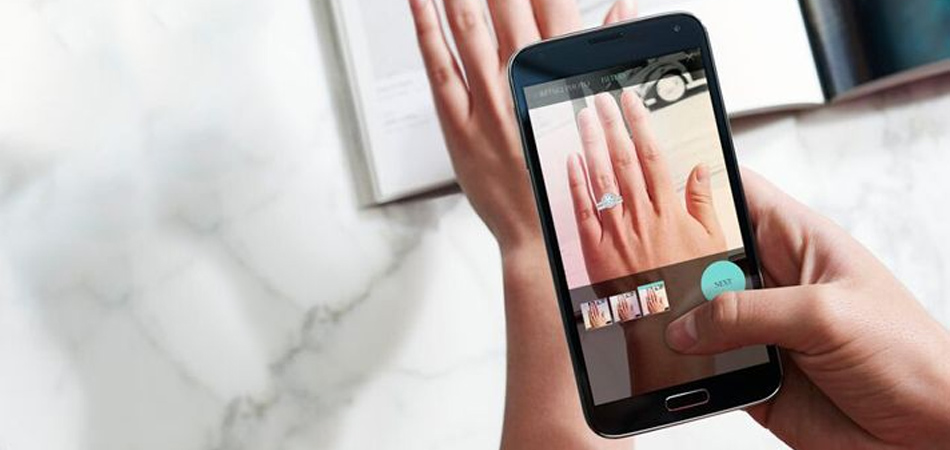 #04 | DIGITAL SHOWROOM
Enjoy the video of Ikea's Virtual Store, a digital space that faithfully replicates the Shanghai store inside TMall. But there is a closer case that we know very well. We created a Digital Showroom 360 for Frette, where customers can literally enter the store, navigate it in first person in 360°, and experience the products in a much more immersive way than on a traditional website.
#05 | VR SHOPPING
From the digital showroom to VR Shopping, the step is relatively short. Rukkus uses the technology to increase sales of tickets for live sports events. Put your phone in a cardboard headset, choose the ticket, experience how you will truly see the show by selecting one ticket over another, and… make the purchase.
#06 | AUGMENTED PACKAGING
Augmented reality is very effective when it comes to enriching product packaging with informative content. In certain cases, augmented content becomes an integral part of the product. Take the example of Tere Pim Milk, a milk producer in Estonia. Tere used augmented packaging to increase its brand awareness among young people and promote milk consumption among this target audience. Considering that many young adults don't drink milk – and don't listen to their parents – but listen to music, the solution was to bring music to the packaging. By scanning the milk carton, users could access content related to the Eurovision Song Contest. This way, the brand strengthened its awareness and positioned the product as one for the youth.
#07 | CUSTOMER RECOGNITION AND ADVOCACY
The deepest level of engagement: sharing this experience with others. Applications focused on creating customer recognition (e.g., an app that allows users to vote/report on stores or products) or even extending the brand experience beyond the purchase leverage this aspect. Lush Labs, for example, involves its most loyal customers in evaluating future products. In this context, VR and AR product previews are extremely effective tools.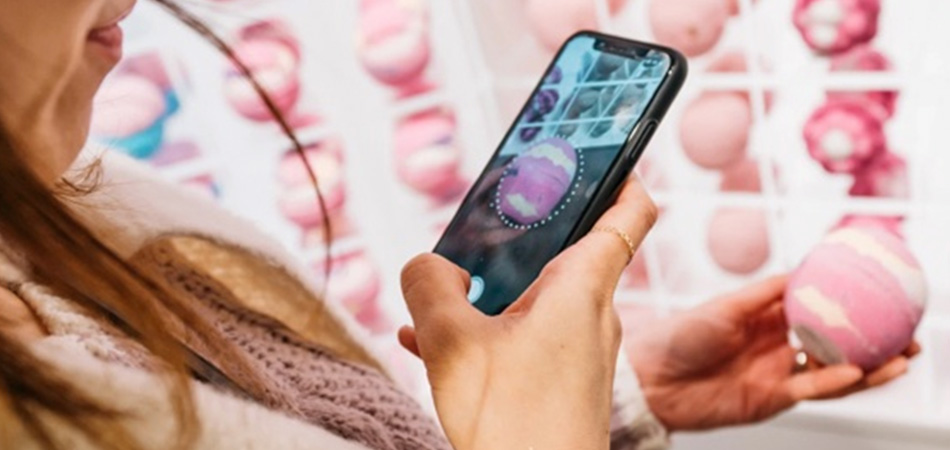 #08 | SUPPORT
This will be the year of avatars. Many brands are now using AR to provide post-sales support (augmented manuals) or deliver support to technicians in the field through AR-IoT applications. The next step will be virtual assistants that will accompany us in 3D stores (salespeople) and in post-sales service (technicians).
——————————————————————————————————————-
If you operate in the retail industry, you already have all the tools to stay ahead of the game and start integrating AR and VR into your business. In the meantime, feast your eyes on what Swarovski has accomplished with virtual reality.