In recent months, hybrid formats have been gaining ground in both team building and events, where the physical and digital dimensions converge. For this reason, we have renewed our suite of AR and VR tools aimed at enhancing and making training and communication activities more engaging, thanks to the impact of immersive technologies on emotions.
Immersive team building and hybrid events
"What will happen to fairs and events?", "Will we continue to do training via Zoom, return to the classroom, or have a mix of both?", "When everyone is vaccinated, will everything go back to in-person or not?"
It should be noted that many activities have been moved to collaboration and video conferencing platforms, which have greatly accelerated the digital transition even for traditionally more hesitant activities and individuals. But it is not all straightforward.
On the one hand, collaborating, teaching, and communicating on platforms like Zoom presents significant challenges in maintaining attention levels; the emotional involvement of individuals – a key aspect in some activities – is inevitably lower.
On the other hand, the use of digital tools has still created new experiences that are now expected to be relived in person as well.
An effective response comes from the combination of video games and immersive technologies. Through these, it is possible to transport people into virtual worlds and/or engage them interactively, making them the protagonists themselves.
We have already seen how spatial collaboration – which blends the physical and digital – has provided positive contributions in many business areas and processes. Events and team-building initiatives are even more fertile ground, precisely because improving people's engagement is inherently the mantra that unites these fields.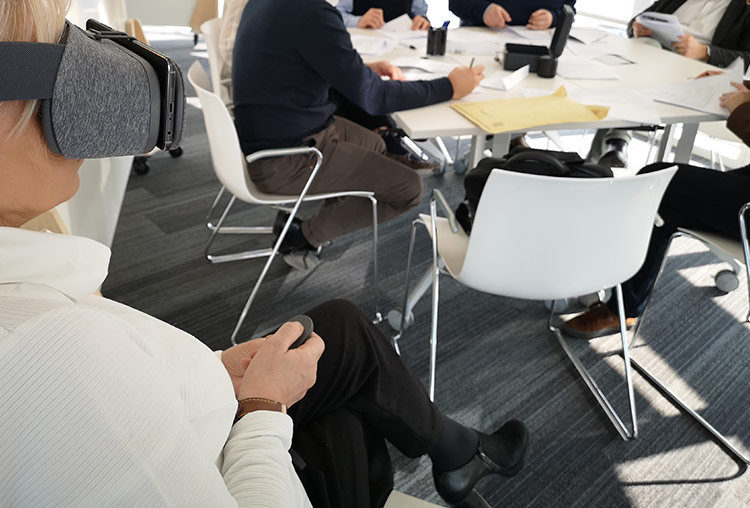 Why hybrid formats will prevail
First and foremost, AR and VR experiences evoke emotions and therefore engage people. This makes it easier for our brains to remember what has been learned. As multiple studies have shown, the more a lesson or message is tied to emotions, the stronger the memory formation, as it is perceived as relevant by the brain.
The use of VR in team building leads to a 21% increase in employee performance, and showing VR content engages people 34% longer than traditional content.
Another crucial factor is gamification. It is well-known that we learn through play, but perhaps not everyone is aware that learning improves by 76% through gamification. This is because games engage multiple aspects, including motor skills, emotions, cognition, communication, and social interaction.
An impressive 85% of employees are willing to dedicate more time to training programs that incorporate gamification.
It seems that providing exciting and memorable experiences by integrating physical and digital dimensions, as well as employing gamification techniques, is the most effective way to engage people, foster networking, and develop personal and teamwork skills such as collaboration, conflict management, strategic thinking, and time management.
In this context, we have developed a suite of tools for hybrid formats, designed to create immersive experiences for learning and entertainment, using engaging dynamics different from typical video call platforms.
A new suite of tools for hybrid formats
Our suite dedicated to team building consists of four immersive games and tools.
#01 – SPACE CREW: Through a mobile game, players are divided into teams and immersed in a space-themed setting. They must collaborate to reach planet Earth as quickly as possible using a spacecraft. By interactively solving various tasks of increasing difficulty, the spacecraft advances toward the destination. Only the team that employs the best strategies of cooperation and communication will successfully reach the destination with the spacecraft.
#02 – ONE HOUR CHALLENGE: The One Hour Challenge format tests and values the diverse skills of a team, maximizing participant engagement. It is a true blended reality role-playing game with actors, physical puzzles, and virtual reality elements.
#03 – VR PRIMING: With VR Priming tools, users can become familiar with risk management and experience the importance of collaboration as a success factor. The challenges include walking in virtual void space and bringing back a drifting spaceship to Earth.
#04 – IMMERSIVE CAFÉ: Immersive Café allows for enhancing the experience of visitors to corporate events by involving them in unconventional activities within a virtual gaming room.
The benefits of hybrid formats
From skill development and team building to events, immersive technologies, especially when combined with gamification, offer fun, exciting, and meaningful ways to collaborate and interact in a work environment.
HR and Event Managers can organize team-building activities and corporate events much more effectively, improving engagement and social relations. Virtual team building activities are designed to strengthen the bonds between employees and challenge them to find new solutions to difficult situations, skills that can be applied to their daily work.
The Covid-19 pandemic has abruptly limited workers' access to most forms of social interaction, leading to a decrease in mental health, well-being, and consequently, productivity. Introducing engaging virtual team-building activities can be an excellent way to combat this problem and make everyone feel more positive and connected.
Challenges and Opportunities for Trainers and Event Organizers
For all professionals working in the training industry, it is time to explore these solutions and become familiar with the tools. The sector is evolving rapidly, considering that until a few months ago, remote training was unthinkable. Today, it has practically become the norm.
Trade fairs and conventions are returning to live events, but many event agencies have not abandoned the hybrid "digital + live presence" formula. This allows them to make online content available on demand, thus enriching the offerings.
Our suite of tools for hybrid formats caters to all professionals whose main asset is training. If you are a trainer, HR manager, or training coordinator, or if your agency organizes training events, contact us to support you in your virtual transformation process.