According to a survey on digital consumption in 2022 (We Are Social), the relevance of the entertainment sector for the audience has once again emerged.
From a global perspective, the highest percentage of digital content purchased monthly by individuals aged 16 to 64 is related to on-demand streaming content.
Although in recent years, in Italy, the consumption of TV programs and movies solely from televisions has decreased by 3% compared to the previous year, totaling more than 3 hours per day, there has been an increase in consumption of the same content through all other devices, especially mobile phones, tablets, and computers. Furthermore, one of the main motivations for Italians to subscribe to online services or purchase downloadable content is specifically to watch video-on-demand, totaling $1.61 billion, second only to video games ($2.11 billion).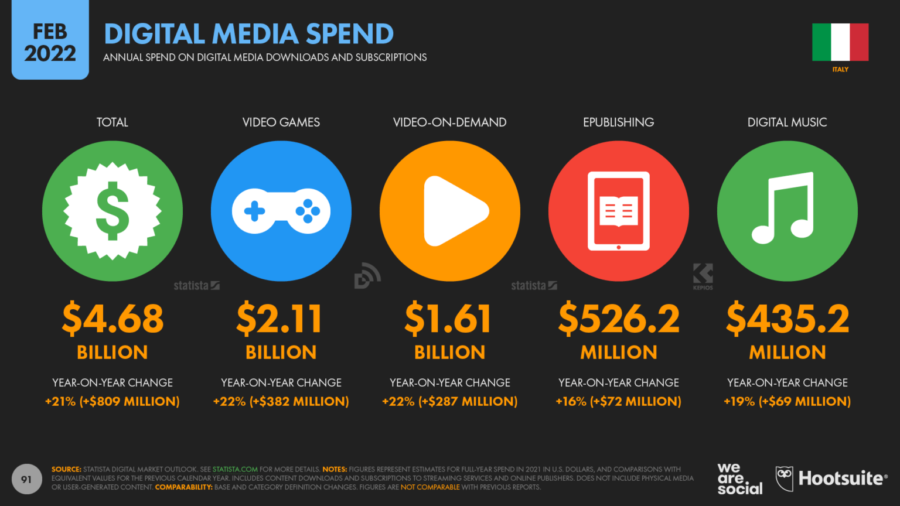 The supremacy of the entertainment industry can also be seen in more general reports on internet usage. Among the reasons for using the web by Italians, the top priority is searching for information, news, and explanations, followed by finding inspiration and new ideas, searching for travel and destinations, staying in touch with loved ones, and watching movies, videos, programs, and TV shows (50.9%).
The future of entertainment is happening through devices.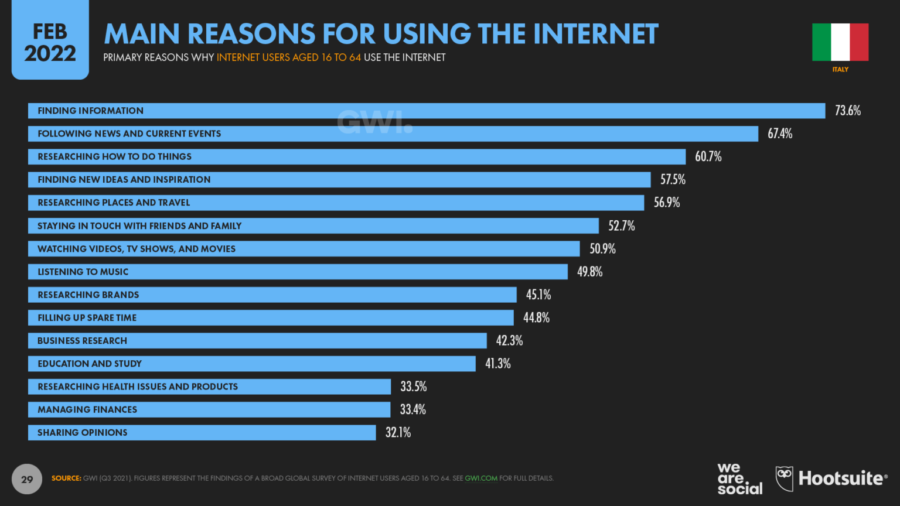 Entertainment in Italy in recent years
Due to the pandemic, the film market has experienced a significant slowdown on various fronts, including production and distribution.
Since 2019, we have witnessed the closure of theaters, which has forced the industry, already declining due to video-on-demand services, to reinvent itself.
In Italy, in 2021, there was an 11.87% decrease in theater attendance compared to 2020, while compared to the period between 2017 and 2019, there was an actual decline of 52.89% in box office revenues and 54.85% in attendance (ANICA data).
Among the first extraordinary experiments, dating back several years, we certainly find 360-degree videos: non-interactive videos that have the characteristic of expanding the viewer's field of vision. The main application in this case is definitely for films with a first-person narrative, where the viewer is immersed in the protagonist's perspective and sees the scene through their eyes. It's a kind of hyper-subjective experience.
This type of film has achieved moderate success, especially from a critical standpoint. An example is the Italian film "Dreams of Blue," produced by Hive Division, which has received several awards.
However, this cinematic genre has not yet found a true market outlet and remains relegated to film festivals.
Virtual reality remains essential in film production. In recent years, the industry has been moving towards virtual and emerging technologies, such as green screens, motion capture, and more, without which the quality of special effects and the creation of fantastical characters or worlds would be almost impossible (or more similar to a theatrical performance).
Another application is related to volumetric videos. This filming method involves capturing the subject from every angle, using an array of cameras surrounding it, ensuring that not a single inch of the subject is missed. It is the same technique used in the famous scene from the film "The Matrix," where the protagonist dodges bullets while the audience witnesses the feat from every possible angle. This technique is aptly called "Bullet Time," named after that scene. Of course, this method will not only allow the audience to see every part of a scene but also facilitate image editing and create entirely new opportunities, surpassing two-dimensional videos.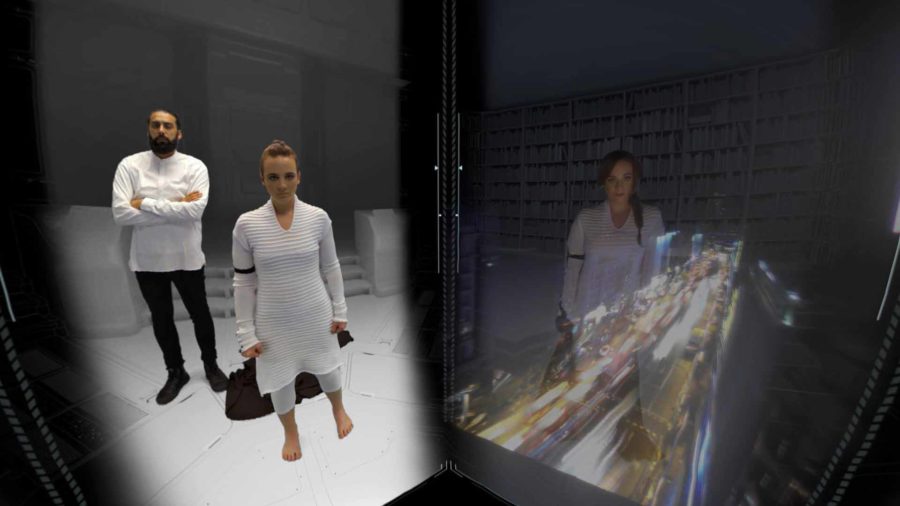 A new way of experiencing entertainment
When people hear the words VR and Cinema together, most of them imagine the closure of movie theaters in favor of watching films at home through headsets.
In the past, there have been projects that seemed to be heading in this direction, such as Google's Spotlight Stories.
Certainly, the topic of video games, the metaverse, and virtual worlds have been widely considered, especially in recent years, particularly from a content perspective. And we're not talking about niche or art-house films, but about true cult films like Spielberg's "Ready Player One," "The Matrix," and even animated films like "Ralph Breaks the Internet." In short, the metaverse and virtual worlds are hot topics for imagining fantastic stories.
Music, Concerts, and the Metaverse
While the film and television market is currently exploring initial approaches, the music and entertainment industry is utilizing and leveraging augmented reality and virtual reality technologies.
Just like in cinema, the live events sector has also suffered a severe setback due to the pandemic crisis in recent years. In response to these challenges and forced closures, numerous concerts have been held within virtual worlds, such as those by Ariana Grande, Justin Bieber, and Lil Nas X. The virtual strategy proves to be successful, with millions of attendees participating in these events, and in some cases, they turn out to be even more crowded and have a larger audience than the artists' past live events.
But the possibilities do not end there. Through augmented reality, consumers can be granted access to new and exclusive content.
For instance, Gué Pequeno's album "Mr. Fini" used an augmented reality mobile application to offer a new experience that unlocked additional multimedia content from the album.
Augmented reality also provides the opportunity to make a live event unique and unforgettable by incorporating exciting and innovative effects, games, and set designs.