AnotheReality at the Web Marketing Festival 2019 as a Speaker and Gaming/eSports Booth — This year at the Web Marketing Festival in Rimini, the most important event in Italy dedicated to digital and social innovation, we were also there!
From June 20th to 22nd, we were among the three exhibitors in the Gaming & eSports area, bringing Yon Blitz to the festival. Yon Blitz is a multiplayer VR shooter developed by our team and was showcased at Milan Games Week 2018. It was received with great enthusiasm, and many people challenged each other in Blitzgun battles!
The Rimini showcase was also an opportunity to discuss the deep relationship between marketing and immersive technologies on Saturday, June 22nd. Our COO, Matteo Favarelli, delivered a speech titled "Virtual and Augmented Reality: When Marketing Meets Entertainment," which attracted a full house at the Temple Room of the Palacongressi in Rimini.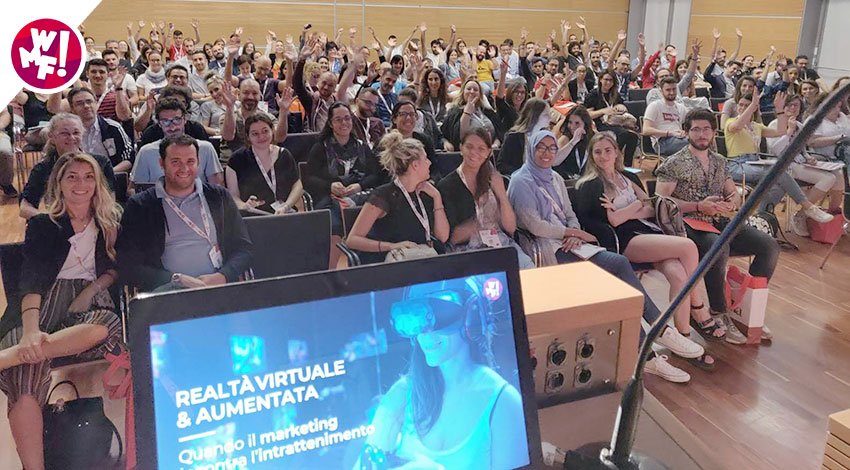 WHY USE VIRTUAL REALITY AND AUGMENTED REALITY IN A MARKETING STRATEGY?
For those who weren't present at #WMF19, here's a summary of some of the points covered in the presentation, along with many successful use cases, both Italian and international.
Speaking about numbers and results, here are some of the statistics mentioned in our talk:
#1 — More than 80% of people who try virtual reality share their experience with others.
Experiencing virtual reality allows people to be at the center of the action, letting them explore what's happening and generating engagement and empathy. That's why providing customers with such an experience creates a more impactful word-of-mouth effect for your brand compared to traditional tools.

#2 — People notice and remember a brand eight times more after experiencing it in XR (Extended Reality) compared to standard video advertising.
An immersive experience can engage all five senses, offering a high sensory impact and increasing the emotional connection and memory associated with the experience. That's why this kind of experience makes it easier to remember any brand-related element in a more persuasive way.

#3 — Up to 18 times more effective than a traditional communication campaign.
In a world increasingly saturated with digital content, capturing 100% of someone's attention is a challenging goal. That's why an immersive experience allows for more impactful communication, and the only limit is creativity, as virtual reality makes any experience accessible.
For these reasons, virtual reality and augmented reality can be excellent allies in marketing, especially for those who want to tell their brand's story in an innovative and impactful way.
Finally, a big thank you to everyone who had fun at our booth and expressed their appreciation.
See you at the next edition!
Visualizza questo post su Instagram